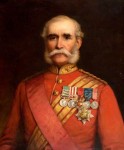 On 22nd January 1879 General Sir John Douglas of Glenfinart, Commander of the Forces in Scotland, charged William Craig:
"to commence and complete before the term of WhitSunday 1882 two good and substantial Villas
or dwellings…each of which shall be of the value of 700 Sterling at Least."
Sir John, the major landowner in the area, feued land around Carrick Castle to a number of people at this time for the construction of grand holiday homes in this beautiful Argyll location. These were a 'must have' for well-to-do merchants living in Glasgow or along the River Clyde.
William Craig completed only one villa on the plot, with the remaining land becoming gardens, orchards and a tennis court.  The stone for the house was quarried from an area owned by Douglas behind the garden.Upon completion the house was not as not as you see it today.  There were no baronial features or 'servants quarters', however written records suggest that it was a beautiful home with splendid gardens.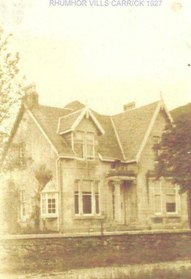 Originally the house was named 'Burnside' referring to Carrick Burn which flows past the garden.  In the 1920's it became  'Rhumhor', Gaelic for 'Big Point'. This harked back to the days when Carrick Castle could only be reached by boat.  On the shoreline outside Rhumhor a large sand bank comes to a point (still partly visible at low tide).  It is assumed that at this 'big point' was some form of pier used by boats as a docking point, giving Rhumhor its name.
In the 1920's the house underwent alterations by the well regarded Scottish architect Magnus Duncan.  Alterations included the addition of the oriel "turret" windows and the tennis pavilion (now the family room) which give Rhumhor such unique appeal.
Rhumhor in present times
Since then the house has been loved by many families.  It has housed a potter's kiln and has also been run as a B&B.  Now it is once again a grand holiday home, offering its guests the chance to stay in a unique and stylish villa in a simply breathtaking location.  It is incredibly popular with people looking to mark a special occasion. Whether they choose a short break stay or a full and relaxing holiday.
The original tennis pavilion has been converted into a spacious family room complete with comfortable sofas, entertainment equipment and a large pool table. The views across the Loch are just as magnificent as the day William Craig agreed to build this beautiful house.
Today, Rhumhor is run to a four star self catering standard holiday rental by its owners. Hundreds of guests have enjoyed wonderful holidays, short stays and family celebrations at Rhumhor.